Written by: Glenn Welker, filed under
Teaching
.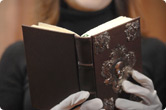 While I don't even know where to start commenting on Kathy's last post, I do know that one teacher can make a difference.
Kathy, this might be something that would be exciting for your kids and something that you could integrate into your curriculum.
Amazon is sponsoring the Beedle the Bard Ballad Writing Contest. Here is a short description from their web site.
Want to get your (gloved) hands on J.K. Rowling's The Tales of Beedle the Bard? Amazon.com wants to send you and a friend to London, England to spend a weekend with the rare and delightful book of fairy tales (security guards included, of course), handwritten and illustrated by J.K. Rowling herself. Open to muggles ages 13 and older in 24 countries, the Beedle the Bard Ballad Writing Contest challenges you to creatively answer one of the following three questions in 100 words or less:

• What songs do wizards use to celebrate birthdays?
• What sports do wizards play besides Quidditch?
• What have you learned from the Harry Potter series that you use in everyday life?