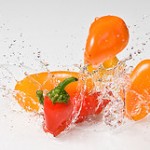 As usual, winter is wearing thin and I am dreaming of spring. Starting in early winter, I start planning what I am going to plant in the garden and flower beds. This year, I am trying quite a few new vegetables, grains and flowers. Many of these are planned for the flower beds. If you haven't thought of placing vegetables in a flower bed, then you may be surprised by how amazing they can look. Ornamental peppers, for example, can have amazing leaf color as well as bright fruit that is attractive as well as delicious.
In the coming weeks, I will cover a few of the newer varieties and my plans for them. I will also cover the techniques I use for both planning and planting the garden. Please comment if you have questions about specific varieties or techniques.
Here is an almost full list of the varieties. 10 additional tomatoes and 5 additional peppers have been requested from Belarus.
Flowers
Cardinal Climber,
Chia,
Cup and Saucer Vine,
Delphinium,Blue Fountains
Moluccella,
Moonflower,
Primula,
Red Milkweed,Prairie
Sunflower,Antique Mix
Sunflower,Autumn Beauty
Sunflower,Mongolian Giant
Yacon,
Cotton,nankeen
Fruit
Melon,Charantais
Melon,Jenny Lind
Melon,Prescott Fond Blanc
Sea berry,
Sunberry,
Cucumber ,Jelly Melon
Grain
Amaranth,Hot Biscuits
Quinoa,bolivian red
Herbs
Cumin,
Papalo,bolivian coriander
Thyme,
Basil,Mixture
Lemon Grass
Hardy Rosemary
Vegetables
Bean,Derby
Bean,Experimental
Bean,Garbanzo
Bean,Gold of Bacau
Bean,Green Bush
Bean,Kentucky Blue
Bean,Kentucky Wonder Wax
Bean,Maxibell
Bean,Romano Gold
Bean,Unidor
Carrot,Experimental
Cucumber ,Burpless II
Cucumber ,Jelly Melon
Cucumber ,Mexican Sour Gherkin
Jicama,
Kohlrabi,Rapidstar
Leek,Giant Musselburgh
Lettuce,Mixture
Lettuce,Simpson Elite
Lima Beans,Speckled Calico
Onion,Sweet Spanish Utah Strain
orach,red
Parsley,Dark Green Italian
Pea,Experimental
pepper,aci sivri
pepper,ariane
pepper,bellinggrath gardens purple
pepper,berbere
pepper,bhut jalokia
Pepper,Big Dipper
pepper,big jim select
pepper,black dallas
pepper,cayenne purple
pepper,cecei
pepper,chilean aji
pepper,colossal kim
pepper,corona
pepper,cuneo
pepper,czechoslovakian
pepper,ethiopian
pepper,fakir
pepper,giant yellow banana
pepper,guajillo
pepper,hercules yellow golden
pepper,hungarian pasinsky's giant
pepper,marconi golden
pepper,masquerade op
pepper,mexibell op
pepper,mulato
pepper,numex big jim
pepper,pasilla
pepper,pearl
pepper,plamen
pepper,red lamuya
pepper,red rocoto
pepper,zolotisty
Radish,Mixture
Radish,Scarlet Stix
Snap Pea,Sugar Ann
Snap Pea,Super Sugar Snap
Snow Pea,Sugar Pod II
Soybean,Be Sweet 2020
Spinach,Vital Green
Summer Squash,Hybrid Scallop
Sweet Corn,Experimental
Swiss Chard,Bright Lights
Swiss Chard,Five Color
tomato,aurantiacum
tomato,berkeley tie-dye
tomato,black mountain pink
tomato,Delicious
tomato,dr carolyn pink
tomato,Experimental
tomato,golden glow
tomato,hikari
tomato,hungarian italian
tomato,ingengnoli gigante liscio
tomato,missouri pink love apple
tomato,Pineapple
tomato,Plum Lemon
tomato,red robin
tomato,San Marzano
tomato,sungold select II
tomato,sweet cherry, gray's
tomato,violaceum altaistky
tomato,wick's orange paste
tomato,woodle orange