Written by: Glenn Welker, filed under
Gardening
.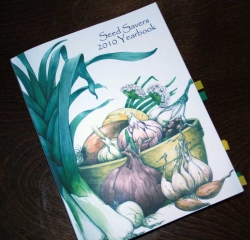 The yearbook in my opinion is the number 1 reason to become involved with the Seed Savers Exchange. Members eagerly anticipate receiving their yearbook towards the end of January. The forums at
seedsavers.org
usually start to post notes of excitement as they receive their copy. You can almost watch the mailings rush across the United States as people comment on when they receive it.
The yearbook is visually plain, looking very much like a phone book with a color cover. But oh, if you are into gardening then the pages hold so much more than simple listings. Many of the listings include notes of how the variety came into existence. Interesting stories of immigrants who brought seeds from their homeland to plant at their new home. Less not forget the international members who have fantastic varieties not available anywhere in the US.
So what is your favorite veggie?
How about tomatoes? The 2010 yearbook lists approximately 4650 different varieties. Want something more obscure? How about the approximately 75 different varieties of Jerusalem Artichokes? Melons, approx 165. Peppers, approx 870. Okra, approx 60. You get the idea.
The yearbook is not just about seeds. You can also find roots, bulbs, tubers and scionwood.
So what do I do, when I get mine? I bookmark the starting page of my favorite varieties. Then I kick back and think about what part of the yard I can dig up this year to turn into new beds.