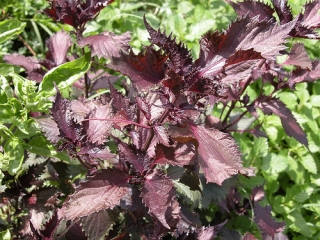 Shiso as it is know in Japan is know locally as Perilla. It is a member of the mint family and can be found in two colors. The green variety usually has a stronger taste and larger more serrated leaves. The red variety has a slightly more anise flavor.
Shiso's tastes is somewhat reminiscent of cilantro, cumin and cinnamon. Both the leaves and flowers are edible.
Shiso is easy to grow and will reseed itself in mild areas. It has similar needs to basil. The pungency of the leaves can vary considerably from plant to plant. Try to buy your seeds from a source that specializes in Asian vegetables.
Lastly, it very closely resembles stinging nettles. Plant it any place where it wont be mistaken for this common weed.