Written by: Glenn Welker, filed under
Tips
.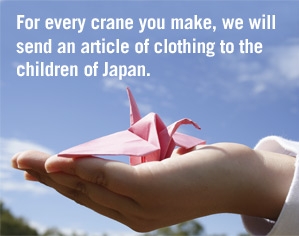 Osh Kosh stores have action packs,which includes origami paper and instructions or downloadable Origami Crane or Easy Origami Crane instructions.
From the Osh Kosh web site:
"Like you, we've been touched by the plight of the thousands of children who have been affected by the recent earthquake and tsunami in Japan. We wanted to find a way to empower kids to help children in need by using their creativity.
In Japanese culture, cranes are a powerful symbol of health and well-wishes. In fact, the Japanese people believe that anyone who makes 1,000 origami cranes will have a wish granted. While we can't grant every wish, we can make a difference.
Through April 25, we'll be collecting the paper cranes that you and your children create and sending them to our OshKosh stores in Japan to show them the support and caring of their friends in the United States. OshKosh will donate up to 50,000 articles of clothing.
Please help the children of Japan by spreading the word!"