To tell someone from Ohio that it has been a wet spring would be humorous. Most of the central and eastern United States have been punished by floods or far more rain than average. As I write this today, on May 18th, many farmers in our area have yet to plant their fields. There are even some that haven't been able to till their fields.
So, how is it affecting this home gardener? Actually it is affecting me more mentally than affecting my ability to get in the garden. The day after day of rain is just simply sad after a certain amount of time. I want to be playing with my kids in the backyard. I want to be complaining about the heat. Instead, I get to complain about the mud stuck to my shoes.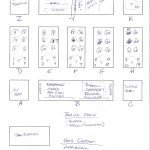 This past week/weekend gave me a rare stretch of 3 dry days in a row which allowed me to transplant most of the garden. Tomatoes and peppers take up the most space and I fill the garden with the remaining vegetables. Some of the large vegetables are destined for our flower beds in front of our house. Whether my neighbors will see these as ornamentals remains to be seen. When getting ready for transplanting or direct seeding, I print out a little layout of the main garden beds and start making scratches to layout all of my desired plants. I then will refine this with a single page diagram for each bed. You will notice that I have labeled each bed with a simple letter. This corresponds to the final layout diagram on another page.
Being a member of the Seed Savers Exchange allows unparalleled access to rare seeds but the yearbook can be a bit intimidating. The yearbook is printed on newsprint and numbers this year in the 535 page range. If you are lucky, you are looking for specific varieties. If you like me, like the unusual, then it takes a bit of digging. Two years ago, I looked for varieties listed by Heritage Farms that lacked a description. Unfortunately, most all of my seed failed to germinate. This year I tried again, looking for orphan tomatoes and peppers with completely different results. All of my seed germinated. Even with warnings about long storage times and the suggestion to sow heavily made little difference. Almost all of the seed germinated and germinated quickly.
So I am left with quite a few varieties this year that have almost zero information regarding fruit size, leaf type, taste, etc. I hope that I can fill in some of the gaps in the yearbook by growing out these varieties. Even if I can't grow them out to re-offer seed, it should give some other seed saver enough information to pick up the mantel. Of course, there is the chance that gardeners don't grow these varieties because they have huge character flaws. Only time will tell and I find that exciting. I can say that I am likely the only gardener in the United States and possibly the World growing a particular type of pepper or tomato this year. That's cool, isn't it?
My only sad germination failure was a new herb/plant called Shiso. Hopefully I can contact the seller to see if they can provide more seed and possibly advice. I grew Geraniums (Pelargoniums) from seed for the first time and was honestly amazed. They germinated almost immediately and grew quite fast. I doubt that I will try to overwinter a Geranium again when they are so easy to grow from seed. Portulaca was harder to grow from seed, but Columbine and Lavendar also proved quite easy to grow.
Two different types of Pak Choi have been growing like gang busters as well as Brocolli , Brussell Sprouts and Cabbage. Apparently they have enjoyed the cooler rainy spring.
I am trying two different melons again, against my better judgement. This is usually the vegetable/fruit that makes me feel like I don't belong in the garden. But, have no fear I intend to try once again.
I grew 25 varieties of tomatoes along with 13 varieties of peppers this year. Some I grew as germination tests along with grow outs for seed I offer in Seed Savers. The rest were new varieties for this season.
NOTE: I have way to many plants to plant in my garden. I grew at least 6 plants of each variety and in some cases far more. I only planted 30+ plants in my garden this year. This leaves about 200+ plants that will need a good home. If you aren't picky, I might be able to provide you with some free plants. If you are in the Columbus area, leave a comment on the this post and I will contact you as my plant supply lasts.
Have a great season.